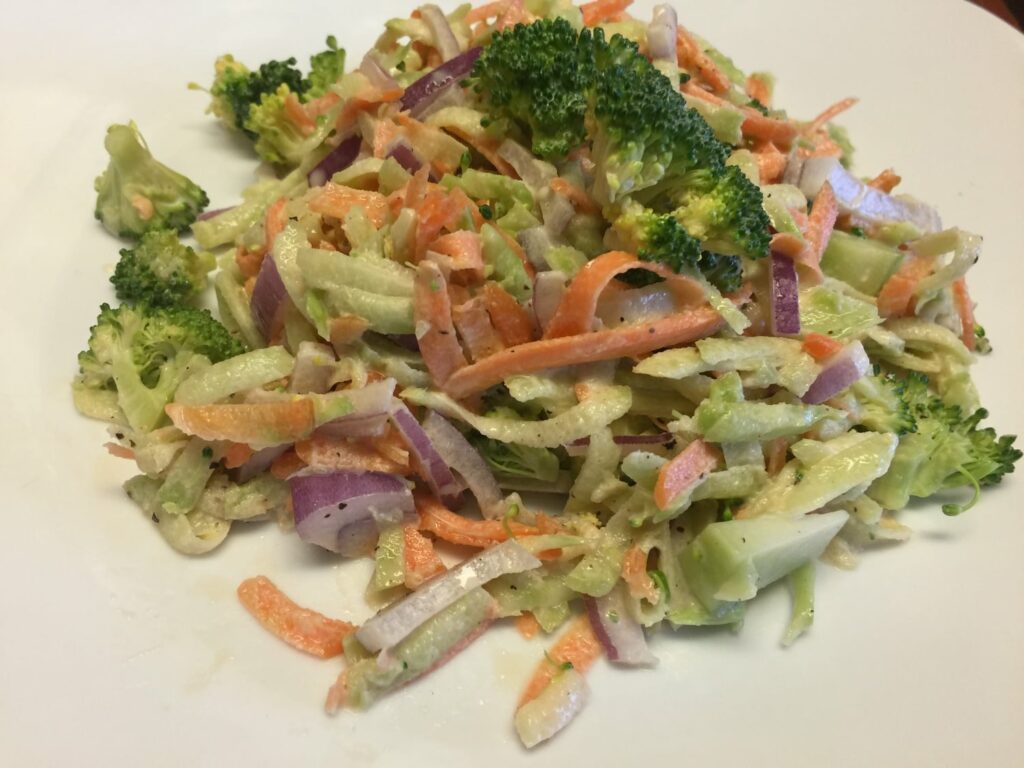 Wondering what to eat on a paleo or whole foods diet? This salad recipe is heavy on the veggies and flavor! Let me know in the comments or on Facebook if you've tried it!
A Paleo Salad with No Meat?
I've created a broccoli salad because a lot of people say that one of the challenges with paleo is that it is to meat-centric. It doesn't have to be! It is up to you to dial down the proportions of fat, protein and veggies that work for you. Plus, broccoli is delicious and a veg that is surprisingly high in protein. This makes for a great protein-packed lunch!
Ingredients:
3 heads of orgainic broccoli with stems on
2-3 carrots
1/2 red onion or 1 shallot
1/2-3/4 cup paleo mayo
S&P
Let's Do This!
Wash broccoli and remove the stems as close to the head as you can. Trim off the hard stem base and with a knife or peeler remove the tough outer layer of stems.
With your food processor on shredder mode, add broccoli stems and washed carrots (If organic, I leave the skin on as it contains even more nutrients!). If you don't own a food processor you can use a cheese grater but watch those fingers!
Dice onion and chop broccoli head into small florets.
Add all together and slowly fold in your paleo mayo until it is to your liking. Add S&P and YUM!
* Also amazing with some chopped bacon!
Tags: Paleo, Sugar free, gluten free, whole foods, Healthy Hub Massage and Wellness, broccoli, broccoli salad, salad recipe, paleo mayo, quick recipes, vegetable recipe