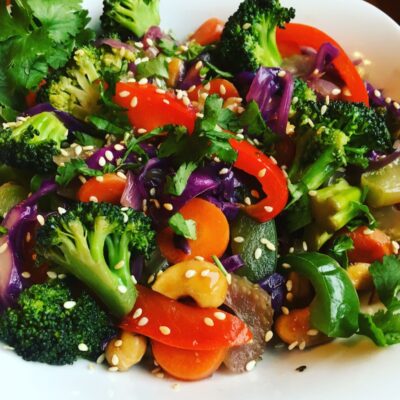 Whole Foods Challenge
Don't miss your chance to be a part of this life changing event. Limited Space Available, Register Today!
Registration is closed for now. Sign up to be the first to know when registration opens for next session!
The Doctor's Office
While seeing your doctor for a headache, back pain, inflammation, or another ailment, has your doctor ever asked you about your diet? I didn't think so. It's crazy to me that with our nation's poor health and rising disease this question isn't asked more often.
Every single cell in your body is affected by the food you eat. Food has the amazing ability to either build and support your health or deplete it. The saying is true: food can either be your best medicine or your slowest poison.
Wheat Thins
Is getting old a pain? I hear this all the time. It seems like everything hurts, energy is always low and taking pills is part of the daily routine. I ask my clients what they're eating and it's usually the Standard American Diet (S.A.D. : a fitting acronym). How can anyone expect to thrive on Rice-a-Roni, Wheat Thins, chips, brownies and other packaged products that are stripped of nutrients and replaced with fillers, synthetics and god knows what else?!?
Be Optimal
Think about a plant when it doesn't get the sunlight, water and fertilize it needs. How does it look? Weak, droopy and pathetic, right? How can that plant be optimal if it's not getting the nutrients it needs? Well, my friend, we're the same way. We forget that we're also a product of nature and anything that we eat that's not in its natural state has cumulative ill effects on our health. Eating like this sets the stage for chronic pain, energy loss, weight gain and disease.
Whole Foods?
Okay, so what ARE we supposed to eat? The answer is simple. Whole foods. These foods haven't been processed or refined. Examples include veggies, fruits, meat, legumes, and whole unprocessed grains like wild rice or quinoa. Whole foods don't contain any additives like salts, fats and preservatives. Whole foods will rot, mold, and must be purchased fresh!
My Why
I've created this challenge because nothing gives me more joy than transforming your health. I've seen people free themselves from body pain, lose weight, gain energy and even reverse diabetes. Best of all is seeing people find a whole new love and excitement for life. Imagine living without everyday aches and pains, with more energy, and feeling truly comfortable in your own body. It's possible, and this challenge is the first step!
My Story
For seven years, I suffered from chronic back pain. It was the kind of pain that would appear out of nowhere and would bring me to my knees. Despite being a massage therapist, I thought I just had to deal. That was until I was "prescribed" a whole foods diet. It changed my life. Not only did my back pain go away, but I had mental clarity that I'd never had before. Everything in my life got better. I found my passion and purpose in life, I created my own business, and found the love of my life.
My Goal
Is not to give you a quick fix diet or a brief reprieve from pain. I want to help you transform your lifestyle so that you can live pain-free and comfortable in your body every single day. Even better: you don't have to feel deprived. You can still enjoy delicious food (including treats) that fit within your new healthy lifestyle. You and your family deserve the best, and the Whole Foods Challenge will jumpstart this process, so you can take back control over your health.
I created this as a group challenge because, let's face it, change is hard. However, it's way easier when you have a team of other people dedicated to the same goals. I've set you up for success with constant contact. Having someone to support you every step of the way is the difference between "I tried that diet for a few days", and a lifestyle makeover.
This challenge is for EVERYONE! I would be crazy if I told you we all need to eat the same things every day. There are billions of people on this planet, and we all have different cultures, traditions and lifestyles. The Whole Foods Challenge gives you a framework you can adapt to your lifestyle. As humans, we are meant to thrive with whole foods, water, love and shelter. This challenge will help you get back to the basics so you can truly feel your best!
THIS PROGRAM IS FOR YOU IF you want to:
Feel 10 years younger
Have more energy, better sleep, and weight loss
Eat healthier, but don't know where to begin
Stop eating processed food and sugar
Reduce inflammation and pain
WITH THIS PROGRAM, YOU WILL RECEIVE:
Whole Foods Challenge
You'll have access to the 3 week challenge with each of the 3 levels described in the video, starring yours truly. Each level has a brightly-colored, easy-to-read infographic and a printer-friendly PDF. You'll be able to choose the level that's right for you.
Week one of the challenge is setting you up for success. Over the course of the week, I teach you how to meal plan, organize your pantry and fridge, create your own food philosophy (that you can live with), drink more water and practice eating mindfully.  You'll receive videos, guides, infographics and inspirational e-mails each day.
The next two weeks are when the Whole Foods Challenge comes alive! There are 3 different levels with this challenge. Before we begin the challenge, you'll receive a video explaining each level so that you can choose the one that's right for you!
Daily Emails with Inspiration and Meal Ideas
These emails will inspire you, motivate you, and keep you accountable! It is my mission to keep you from giving up and slipping back into your old habits. These emails also break down the challenge step-by-step to make each day more manageable.
Bonus Support: Access to an Exclusive Private Facebook Group
Here, you'll connect with your fellow Whole Foods Challengers. This will be an active group where food pics are posted, questions are asked and answered, recipe sharing is encouraged, and we'll all share some good ol' comradery. I'll be active in this group answering questions daily.
Mini Cooking Video Demo's
I call it a challenge for a reason. It's going to push you past your comfort zone to try new things, because hey, nothing improves without change, right? I've made this challenge as easy as possible by demonstrating new cooking techniques with my exclusive mini videos. I'm confident that after you watch these videos, you'll never want to buy a jar of mayonnaise again. Like dark chocolate? Keep your eyes peeled for the video on how to make a healthy chocolate treat in 10 minutes.
Meal Plans
Let's face it, you've gotta do some planning to be successful. I'll teach you how to prepare for your week with meal planning, recipe selection, prep scheduling, and grocery lists. And If all of this seems overwhelming, there are options to buy your own, ready-made meal plan and grocery list. Pretty cool, right?!
Eat Out and Attend Social Events Healthfully
I hear ya, it's hard to adhere to a diet when going out. However, I'm not teaching you a diet, I'm helping you create a lifestyle. During this challenge, you're going to learn how to stay within the boundaries of a whole foods lifestyle without feeling deprived or being the weird one at the party who says, "I can't eat that," and then sneaks away with a couple of chips, etc…
Guilt-free Treat Guide
Treats make events special, as long as they don't make you feel like crap afterwards, right? You'll have a list of treats in your toolbox that will satisfy your craving and nourish your body. Win, Win!
Fridge and Pantry Clean Out
Your kitchen should be a place of love and good feeling. Who wants to cook when you cringe every time you open your pantry doors, or when you have to hunt past all of the condiments and rotten food to find what you're looking for? You'll be guided step-by-step to transform the kitchen chaos into a clean, organized food sanctuary.
Time with Jenn
Are you nervous and excited, but mostly nervous? Don't be! There are package upgrades available (though they are limited!) where you can have one-on-one time with yours truly. This is where we personalize this challenge for you. I have helped clients overcome sugar addiction, emotional eating, weight loss resistance, as well as helped athletes and those concerned with disease prevention/ maintenance and more. Have concerns or excuses popping in your head? Let's meet up. Long distance? No worries, we can meet through Skype or over the phone.
Excuses
"I don't have enough time…"
It's time to prioritize you! When you MAKE the time to make your health a priority, everything gets better. Imagine waking up before the alarm feeling energetic. No one else is awake yet. You drink water, take deep breaths, stretch and have premium time just for you! You read a chapter of your new romance novel, catch up with Good Housekeeping or finish your crossword puzzle. You make yourself a super-charged breakfast and prepare a healthy lunch. You're ready for anything. Get the picture? When you put yourself first, you're able to deal with life's challenges with Wonder Woman strength.
"I don't want to spend the money…"
YOU'RE WORTH IT! Look, this challenge is going to leave you feeling energetic and confident in your own skin. You're going to discover newfound energy and feel confident in your body. But let's get real, this challenge isn't a temporary, quick fix. This is a lifestyle makeover. And this lifestyle can greatly reduce your health risks, from cancer to Alzheimer's. What's that worth to you? This program is less then $10 each day. You'll be saving those dollars on fast food and sugary drinks alone! Plus, you'll save on healthcare costs down the road! Isn't it far more practical to invest in building your health, instead of repairing it?
Questions
"Can I drink alcohol on this Challenge?"
Ha ha, I knew you were looking for this one. Yes, you can have some adult beverages during this challenge, but it will be within the boundaries. During the challenge, you're going to ask yourself questions like, "What do I want my relationship with alcohol to be like? Am I a one-to-two-small-glasses-with-a-meal type, or do I polish off an entire bottle while spending time on Pinterest?" My goal is to set you up for life with a lifestyle you can live with and feel great about!
"What if I want to quit sugar completely?"
That's great! There are 3 different levels of the challenge to choose from. If you want to customize this challenge to your specific needs, the package upgrade with my consultation will be a great fit for you.
"Is this like the Whole 30?"
This is unlike any other challenge because it's designed to set you up for life! No other challenge has you create your own food philosophy or uncover your true "why" to keep you motivated to achieve your health goals. This challenge is meant to transform your life, and while it may help you lose weight, it is not meant to be a fast, fad diet or quick fix.
RISK FREE! 100% Money-Back Guarantee
That's right, if you try this challenge and you didn't get any value from it, I'll give you all your money back. But one thing to remember is that this challenge doesn't work without you. You'll need to submit proof that you've been doing the work and if you think it's b.s., I'll refund you and we're still friends. I'm not happy unless you are…Daily Emails with Inspiration and Meal Ideas
What Are You Waiting For?
I'm not going to offer this challenge again for a while. It may not be until next year! Do you want to continue the same destructive habits for another year? What will your energy and body be like if you let yourself go for another year?
Stop with the excuses!
Today is the day!
I'll be with you every step of the way.
Are you with me?!
Let's do this together!
Whole Foods Challenge
3 Levels of the Whole Foods Challenge and Videos Describing Each Level
Daily E-mails with Inspiration and Meal Ideas
How to Create Your Own Food Philosophy
Fridge and Pantry Clean-Out Guide
Bonus access to the Facebook Group
Limited Available
Let's Do this!
3 Levels of the Whole Foods Challenge and Videos Describing Each Level
Daily E-mails with Inspiration and Meal Ideas
How to Create Your Own Meal Plan Templates
How to Create Your Own Food Philosophy
Fridge and Pantry Clean-Out Guide
Bonus Access to Facebook Group
One Hour Consultation with Jenn
Limited Available
I'm all in!
3 Levels of the Whole Foods Challenge and Videos Describing Each Level
Daily E-mails with Inspiration and Meal Ideas
How to Create Your Own Meal Plan Templates
How to Create Your Own Food Philosophy
Fridge and Pantry Clean-Out Guide
Bonus Access to Facebook Group
One Hour Consultation with Jenn
Bonus Hour Consultation with Jenn
Customized Two-week Meal Plan